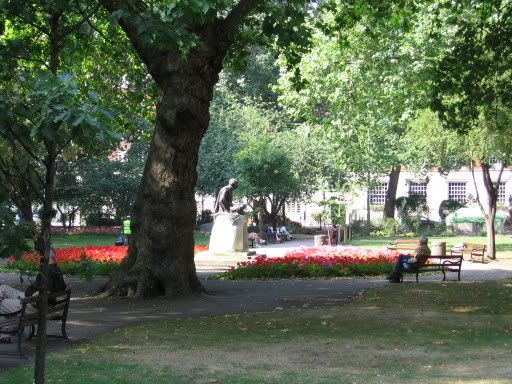 Hey everyone! If you've gotten my email and followed the link here, then thanks for being a good sport! Glad to have you on board. Doing my first pictures today, although the best batch I've got is still on my internet-less computer. It's been a few days, I know, but once I can get the computer online in my dorm room, updates will be much more regular. Just so you all know, I made it so absolutely anyone can comment on this blog, so just drop me a line and let me know you've been here! It'll ward off homesickness and make me feel like a likable american, despite the fact that everyone here thinks I'm 10 times the mumbler I am in the good ol' US of A.
The picture above and to the right here is a park I read in on the 4th, when I went to a park to read after doing a little settling in and then went to a party for NYU students where the free pints were (according to several sources, but not me, I drink only coca-cola) slightly watered down. It wasn't anything spectacular botanically speaking, but I literally passed about 5 parks exactly like this before settling down, and all of them were in a 2 mile radius of my house. I got some reading done here.
After the park I skated down to the Thames, and did some more reading there. The strange thing was, though, the streets were completely empty. Here are some pictures of the freeway and some tunnels I skated in.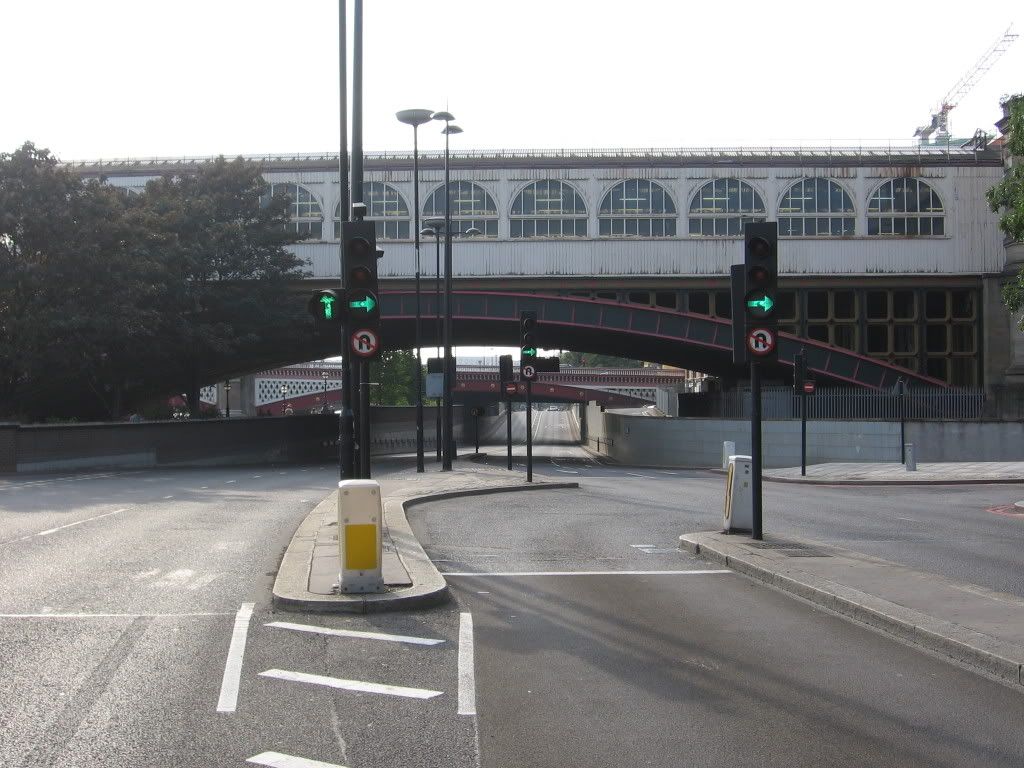 Can anyone say, "Strictly adhered-to work week?" Keep in mind these are like, right next to the Thames. you can see the Blackfriar bridge in the distance in the left hand picture. I'm pretty sure this is the equivalent of the FDR freeway being completely empty.
Anyway, after that I've got some pictures of buildings I thought were pretty awesome. But those pictures will have to wait till tomorrow.
Yesterday I went to the Tate Modern art museum, as my only class on mondays doesn't start until next week. There were a few big surprises (Water Lillies by Monet is there...who knew?) as well as some really cool sculpture. I'm definitely going to go to this garden mentioned in one of the captions...it's full of hedges carved into battleships and poems carved into stone, all made by this guy named Finlay. The coolest thing I saw there was a sculpture called 20 meter tree, which was a telephone pole that an artist had taken and carved back the rings in a way that you could see the way the tree had been at about 20 years old, before it was a telephone pole. The bottom of the sculpture is still completely uncarved, so it's weird, it's like the tree ages backwards as you look up at it. He even carved it so the branches and knots of wood from when the tree was young appeared, the whole thing was just without its bark. Not sure who made it, but it's got to be the most original idea I saw there. Capital!
Today was the first day of classes, and both my professors seem delightful. I'm going to be reading two novels a week at least, because that's just from two of my classes. I'm going to see Shakespeare's Pericles next Thursday at the Globe! Jolly noice!
Unfortunately, I'm a little tired, and the computer lab here where I'm udating is closing soon. But I'll do more updating tomorrow. Maybe even with my.......internet?!
Big News:
First classes, poker night, still no internet, visiting the Thames, rollerblading around London, Tate Modern
Reading:
Confessions of an english Opium Eater, Pericles, Book Business, Moby-Dick.