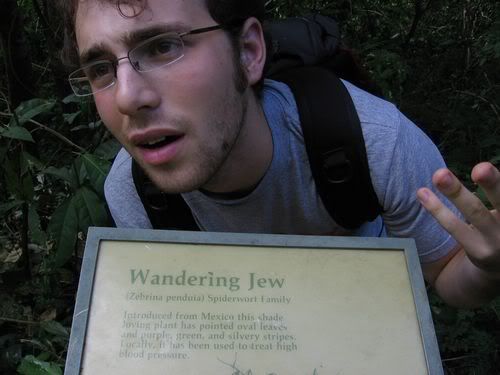 Hey, everyone! I'm back in New York City, chilling with
Katherine
and the club in my brand new Duplex (
1
,
2
,
3
) on 2nd street, 3rd avenue (as of four days ago). The buildings are new, the internet is fast (I can even put pictures in my posts again!), and the people are grizzled. It's a heck of a town.
Check this out
. It's a music site that dissects the music you like, and then predicts what you will like based on what you put in...apparently, I like breathy female vocalists combined with 8-12 time, leading piano, a slow moving base line, and major key signatures. Not quite sure what all that means, but it sure as heck works, it has known EVERY single band I've put in. It's hard to feel indie with technology in the way, you know?
Happy/Merry _______ and happy New Year. Whatever you got presents for or celebrated the birth of, be it a Jesus or a New Year, I hope you had a terrific time with that. I did. I spent a lot of time with my family in the last two weeks, but more on that later in this post.
Dudes
: I totally had the pictures of Germany and France up, and I erased them, so I'll have to get them back on the flash drive next time I'm home. No biggie. You'll just have to see the US Virgin Islands pictures this time, and the Franco-Hessian ones next time (which will be soon, seeing as how my life is plugged back into an ethernet port again). I will tell you this, though. I had a near death experience in both countries, and an interesting living situation in both, and I visited the Reichstag on a VIP tour, the house of the German parliament. I owe Toma/Tamara/Tomato Wassermann and her family a GIGANTIC thank you for that (thanks, Toma! I have toasted many times to you and your family's health since I have been back, as promised.) The bottom line here is, the pictures will be cool.
These last few days, I have been figuring out my schedule and plugging myself back into everything. I have my classes pretty set up, but a number of variables are in the way and making the process more like juggling live housecats in outer space than anything easy. Here's the score.
Let me know if you want to do any of the classes with me, because I want people to join me:
I want to take a wine class ($300, approx).

I want to take a coles athletic class. Not sure what in ($40, approx).

I was offered a job at the rock climbing wall around March. I have the go-ahead from the director there to give people business cards from him, so if you're looking for a job and want to learn rock climbing early for the job or just have it as an option, contact me! I would love to help you learn and decide if you want to work there. Especially since there's nothing better than working with your friends. (Not sure about salary, depends.)

I will be applying to the NYC teaching fellowship, in hopes of getting in and proceeding to acquire an MA from Pace university (classes start in June), and starting work in the five boroughs around Sept. With a full teaching salary and a $4500 annual Americorps teaching scholarship. I am BOOKING it to get ready to apply for this.

I want to spend one day a week working for Soft Skull.

I want to do volunteer work on the weekends/friday, either with Media 4 Humanity, or at schools.

I want to make a comic website (this one's a dream, I know, but give me some space, people. You're smothering me).
NOW: My classes are as follows, so I have to figure out how to work all that in:
Foundations of Educational Linguistics (3 cred) = 6:45-8:25 PM, Tuesday.
Education as a Social Institution (3 cred) = 11 -12:15 PM, Tues + Thurs.
Poetry: Advanced Workshop (4 cred) = 2-4:45 PM, Tuesday.
Topics: Emergent American Literature, Asian/American War Lit. (4 cred) = 2-4:45 Wednesday.
Basically, it's a schedule where I have Friday To Monday inclusive free, Until 2 on Wednesdays, and after 12:15 on Thursdays. Seems like a lot of time, right? We'll see. Got some emails to write surrounding the issues and the timing. Plus, the rock climbing instruction job might steamroll all over everything--but I want it because it will be a great way to practice teaching skills and assertiveness for becoming a teacher. My biggest problem, I think, is managing a lot of people, and the rock wall would be the perfect place for that.
Now then.
WHAT THE VIRGIN ISLANDS WERE LIKE:
A photo-safari adventure book report by Simon Braunstein.
On our week long trip to St. Thomas in the Virgin Islands, my family and I saw many beautiful and frightening wildlifes. These included the giant spider that was in our bathroom, the fruit bat, a tiny lizard (1, 2, 3, 4) and the noble hermit crab, which rock climbs better than I do. My family and I also had lots of hugs, and mother nature had a laugh on my account when my father and I did some hiking to a dried waterfall with petroglyphs. Christmas, of course, was in full swing on the islands.

Our house (
1
,
2
,
3
), called Aria was the
kind of place
you spend 3 hours having breakfast and
reading the house's journal in
, which was appropriate, because we were on vacation. There was a
hot tub
, a pool, and an
incredible
view
. Speaking of food, it was
all amazing
. Jerk chicken is good. Ask me to try and make you some, and I will.
The
water
was amazing, and so were the
beaches
(do you see me in
that one
?)
I tried to
teach my mom chess
, but we need more time.
Alex read
an awful lot, which I envied her for doing (Two Grisham novels, and then some).
The snorkeling was amazing! I saw barracuda, starfish, manta rays, picked up trash under water, and looked for Octopi but could not find a one. And my camera is not waterproof, so you can use your imagination.
In conclusion, I would like to conclude that the US Virgin Islands were a fun place to spend a great vacation with my family, even if we were forced to argue with each other the whole time for amusement (which is always a blast, I wouldn't perpetually bicker with any other high class lovable group of jewkers.)
Funny things:
One time we were sitting in town, and there was
a chicken who was trying to get into a styrofoam container
. So I opened it for him, and he started eating what looked like Chinese food for like 5 minutes. Funny thing is, when we went over there and looked at what he had been eating...it was chicken. Creepy.
The driver from the airport to one of the ports had
a funny ornament.
There was a
funny sign
outside a church.
The USVI Chabad managed to
find us
and give us a free menorah.
Pictures of people:

Alex and I.
My dad and I.
Alex and mom.
Mom.
Alex and mom.
(Hilarious version)
Mom, Alex, and I with drinks in the sauna.
Alex and dad.
Mom and dad.
Mom and dad in the car.
Dad, turning the wheels of time.
(At an abandoned historical sugar mill, which we hiked to)
ALSO: CHECK OUT THIS CRAZY AND SCARY THING THAT HAPPENED WITH A RED BELL PEPPER THAT I USED FOR MY SALAD TONIGHT. ONE, TWO, THREE, FOUR. THERE WAS ANOTHER, SMALLER PEPPER INSIDE OF IT. I AM HONESTLY A LITTLE FREAKED OUT BY THIS. I HAVE DOCUMENTATION. NO, I HAVE NOT EATEN THE PEPPER YET; I AM WAITING FOR THE ADVICE OF MY COUSIN JANE (I am steamed to be related to her), MY FAMILY, MY RABBI, OR THE MILITARY INDUSTRIAL COMPLEX. What do you say? Leave a comment, please, I beg of you.

Music: Heaven (Electric Skychurch), and Waltz / Better than fine (Fiona Apple)
Next time will be a much shorter post about Germany and France. SHORTER. I promise. Thanks for reading! --Simon.